A two week honeymoon gives you plenty of time to see the whole of Croatia, from jaw-dropping Dubrovnik in the south, all the way up to the coastal gem of Istria, Rovinj in the north with time in Hvar, Split, Plitvice and Trogir on the way as well as dipping into northern neighbor Slovenia for a few nights in the charming little capital city Ljubljana, an ideal base for visiting Lake Bled in the shadow of the Julian Alps.
Day 1 – Arrival to Dubrovnik
After your flight arrives in Dubrovnik, we will have someone meet you at the airport and bring you to your centrally located Dubrovnik accommodation. Our representative will then meet with you to answer any questions you have and to get you settled for the rest of your trip.
3 Nights in Dubrovnik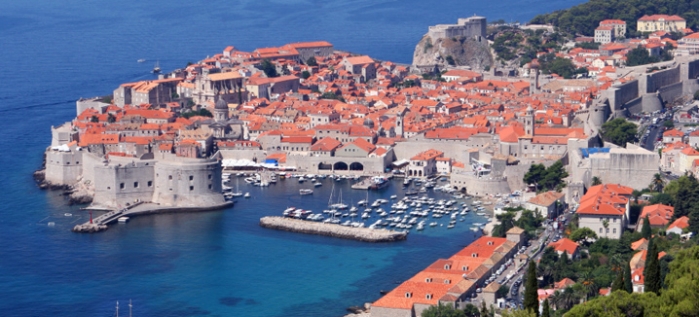 Dubrovnik offers an unusual blend of modern culture and established tradition. Marble-like polished limestone streets, a labyrinth of alleyways and breathtaking architecture characterize the Old Town. Dubrovnik's most stunning feature is the 82-foot tall city wall which extends more than a mile. There are many options for music lovers in Dubrovnik; concerts are performed daily and in July and August the Dubrovnik Summer Festival of music, theatre and dance is celebrated. The nightlife is also exciting with plenty of choices to keep you busy until dawn. When it comes to accommodation in Dubrovnik our wide choice of options covers all budgets from 3 star hotels to apartments all the way to 5 star luxury hotels, all located in and around the old city.
Suggestion: Romantic Dubrovnik
Dubrovnik is a one-of-a-kind coastal destination that makes a wonderful place to travel with your sweetheart. From real romance to outdoor fun, there's something for every couple's mood here, and the incredible natural surroundings will have you feeling like you've stepped into a fairytale. We have two favorite places to watch the sunset: Buza Bar, where you'll have excellent cocktails and snacks and an incredible view as dusk comes on. The restaurant Restaurant 360° perched atop the city walls might be even more impressive, with unbeatable views of the city and the Adriatic. It's one of the most incredible panoramas in the entire region. And, since the gastronomy here is so fresh and delicious, why not learn how to make it together at a special cooking class with a local chef. It's a fun way to bond and have fun as you learn to create fresh seafood and grilled dishes then sit down to feast. Fans of TV's Game of Thrones will already know Dubrovnik is King's Landing in the series, so why not go on a Game of Thrones selfie tour, taking a kiss at each of the filming locations. Talk about unique postcards! A boat ride to nearby Lokrum is also very romantic, as you can really get back to nature on this pristine island, and sample some of the local food and wine.
Day 2
Optional: Get to Know Dubrovnik on a Private City Walking Tour
Dubrovnik is truly a gem of the Adriatic. The city has been on UNESCO's World Cultural Heritage List since 1979. We recommend taking a private 1.5-hour walking tour of the Old City that will show you the old city including the elegant main street and its most important sites: The Franciscan Monastery, Onofrio's Fountains, Sponza Palace, Orlando's Column, City Bell Tower, Church of St Blaise, and Rector's Palace. It's an ideal way to get oriented in the city and set yourself up for further exploration. Continue your day in Dubrovnik after the tour with a ride on the cable car up Mount Srd' to take in the views or get another view of the town by walking the ancient walls that surround the city. If you'd prefer to see Dubrovnik from afar then take a boat trip to Lokrum Island, an oasis of nature and tranquility just 10 minutes from the old town harbor.
Optional: Cook Local
If you have a taste for great food, we've got the perfect day for you if you opt for this cooking class. Today you will head out into the Konavle countryside. Here in a 500-year-old farmhouse, you'll have a half-day cooking class that will teach you about local gastronomy as well as Croatian culture and history. Start by picking fresh vegetables from the garden, then prepare a four-course lunch or dinner with an expert chef. When you sit down to dine, you'll also have excellent local wines and brandy. It's a great way to get hands on with Croatian gastronomic culture, and have a great time doing it! If you need our local staff can arrange for transfers both ways, if you don't have a designated driver.
Day 3
Optional: Visit a neighboring country
Today's a great day to get out of the city and see something new. We have two equally unforgettable suggestions, Mostar and Montenegro. Located in a beautiful valley between the high mountains of Herzegovina about two hours from Dubrovnik, Mostar is listed on the UNESCO World Heritage List. The town is exceptional for its dwellings and monuments assembled harmoniously over the centuries, thanks to favorable geographical conditions and a sound economic climate. Mostar's most famous landmark is an Ottoman stone bridge which connects the city in two parts over the Neretva River. Montenegro is one of region's last undiscovered secrets. Located less than one hour's drive from Dubrovnik, Montenegro offers an unforgettable experience; exceptional natural beauty in combination with a rich history and culture. You'll enjoy the view above the UNESCO World Heritage Listed Kotor Bay with its numerous small settlements. It is a country of contrasts, the new and the old, the mountains and the sea, sun and snow and all of this a little more than a stone's throw from Dubrovnik.
Day 4
Today you're off to Hvar, Europe's sunniest island! Our representative in Dubrovnik will provide you with tickets for the ferry which leaves in the afternoon. You will be picked up from your accommodation by your private driver who will take you to the port in plenty of time for your departure. Alternatively, if you are looking for an opportunity to sight see along the way, we recommend our private transfer option. For an additional fee, we can arrange for a private driver to pick you up in Dubrovnik and bring you straight to Split. If you choose, you can stop along the way, perhaps to explore Ston, the oyster capital of Croatia or Mostar in Bosnia to see the famously reconstructed bridge.
3 Nights in Hvar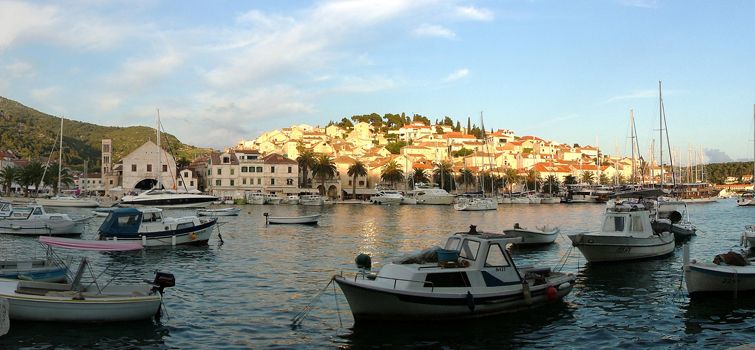 Hvar is rich in history as it boasts, among other amazing features, the oldest communal theatre in Europe, the largest square on the Croatian coast and a medieval fortress dating back to the 7th century. Right off the town's port you will find the Pakleni archipelago, consisting of 21 islands with isolated beaches and secluded coves, making for the ideal way to spend your summer days. If nightlife is what you are looking for, Hvar is known as the party capital of the Adriatic. MSN travel named it one of the top ten world summer party spots. All this makes it a must-see stop on your Croatia vacation. Upon arriving in the port of Hvar, you will be met and brought to your accommodation.
Suggestion: Hvar for Lovers
Hvar is one of the most romantic destinations in Croatia, where you and that special someone can take advantage of the beautiful natural setting to enjoy a magical time together. Hvar town is offers numerous spots to enjoy an unencumbered view over the skyline and out to the water. We'd especially recommend the Adriana Rooftop Bar, where you can enjoy excellent local wines, classic cocktails and delicious cuisine. Atop Hvar fortress you'll have an even better vantage point of the entire town below and beyond to the Pakleni archipelago. And, since Hvar is surrounded by lovely countryside, you can also rent bikes and pedal out of the city to explore the fragrant lavender fields and picturesque vineyards, where of course you can sample some of the local vintages. It's also easy to arrange a wine tour to really get a taste of all the regional varietals. A private sailing trip is another great option for a little alone time as the two of you can sit back and relax as a trained captain sails you to those nearby Pakleni islands, with quiet bays ideal for snorkelling and swimming.
Day 5
Optional: Private Pakleni Islands tour
Today is a great day to charter your own boat and skipper to explore the Pakleni archipelago, with white sand beaches and quiet villages with delicious local restaurants. With your own boat, you'll be able to make your own itinerary, exploring the many hidden coves and the picturesque coastline at your leisure.
Optional: Wine Tasting Tour
There are numerous vineyards and a long history of winemaking in Hvar. Today we recommend getting a taste of the local vinous culture, with a fully guided four-hour wine tasting tour. You'll stop at two wineries, where you'll taste six different wines, along with two dessert wines. The tour is designed to be informative, and above all, fun.
Day 6
Optional: Off Road Tour Excursion
Hvar is Europe's sunniest island, a gorgeous combination of beaches and olive groves, fisherman and grape growers. There's plenty to see, and a full-day off-road excursion is the perfect way to see it. You'll be treated to an off-road tour through typical old villages, combining amazing scenery with authentic local charm. The unspoiled nature, panoramic views, and luscious groves are a sight to behold. You'll enjoy the tour with your own local guide, stopping for a delicious lunch of Croatian delicacies along the way.
Day 7
A taxi will bring your from your Hvar accommodation to the port where you'll enjoy a quick 1 hour ferry ride to Split.
Day Stop in Split
The Roman Emperor Diocletian made Split his home in the 4th Century AD and built a vast palace complex on the waterfront that stands to this day. In fact several of the accommodation options we offer in Split are nestled inside the walls. These days there is an embankment in front of the palace but the water used to go right up to the wall. It's on this man-made strip of land that you'll find the Riva, a pedestrian promenade bustling with life. If you've not seen Split before, instead of heading straight to Trogir, you can store your bags at a left-luggage facility close to the port and spend a couple hours exploring the Old Town of Split, or choose to leave immediately. Whichever you choose, a driver will meet you at the pre-arranged time and take you to the old walled town of Trogir about half an hour away.
1 Night in Trogir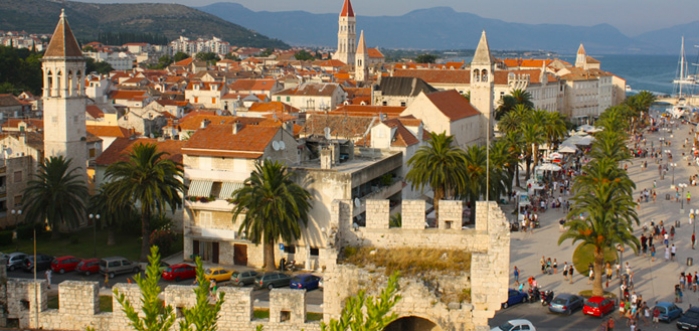 Trogir is a "city-museum" in every sense of the word. More than 2300 years in existence, the city provides lovers of cultural and historical monuments, art, original architecture and cozy alleyway streets an unforgettable setting. The old core of Trogir is an island surrounded by city walls which has been influenced by the Romans, Greeks and Venetians. The wider surroundings of Trogir are characterized by numerous islands and islets, lush green vegetation and beautiful rock/pebble beaches. Your driver will bring you directly to your city center accommodation upon arrival in Trogir.
Day 8
Today, we'll arrange a rental car to be delivered to your accommodation for your use for the rest of the trip. The car will be a manual transmission, but we can arrange for an automatic. We can also arrange for a GPS to be provided at an additional fee. You are then off to the amazing Plitvice National Park. If you're planning to explore the park the following morning and want to fill the day there are plenty of potential stops, only a little off the route. Nature lovers will want to stop at the Krka National Park to see the stunning lakes and waterfalls, followed by lunch at Skradin on a picturesque inland bay. If you like wine, we can arrange for a special tasting at the renowned Bibich winery in the hills above Skradin – suddenly famous since Anthony Bourdain paid the place a visit. In Sibenk, you can visit the interesting UNESCO listed Cathedral of St. James and then enjoy lunch at the excellent Pelegrini wine tavern next door.
1 Night in Plitvice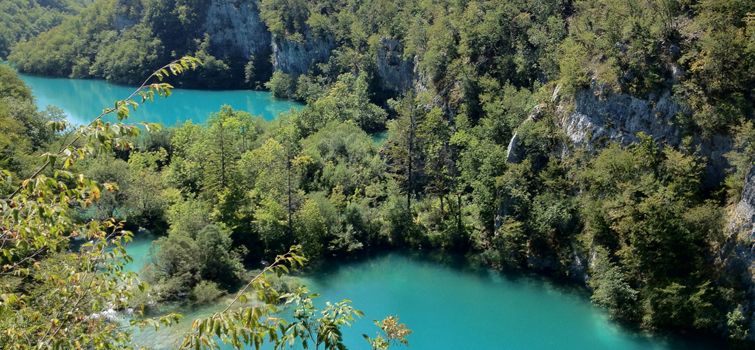 In 1979 UNESCO proclaimed the Plitvice National Park a world heritage site. The park is highlighted by a series of 16 lakes with unique and distinctive colors ranging from azure, turquoise, green, blue and gray. It is 200 miles in total area and a paradise for hikers and nature lovers. The lakes joined together cover a distance of five miles and are connected by wooden footbridges making the park easy to traverse on foot. Dense forest, amazing flora, varied bird and other wildlife as well as spectacular waterfalls and cascades linking the lakes make up this national treasure. Suggestion: Picnicking in Plitvice Plitvice is one of the most stunning natural landscapes in all of Europe, the perfect place to walk hand-in-hand with that special someone, exploring all the beauty of the lakes, verdant forest, and waterfalls. In this UNESCO World Heritage site and national park, a system of lakes with incredible emerald water flow into each other, sprawling through hills and valleys. Find a quiet spot and enjoy a picnic lunch. You could spend all day hiking the many trails in the park, and you can also take a boat ride across some of the lakes. Especially for couples who like outdoor activities, this is a place to enjoy some romantic time together in a truly unique setting.
Day 9
Depending on if you've seen enough of Pltivice, you can either depart for Rovinj in the morning or spend some more time exploring the park and head out mid-afternoon. Along the way, be sure to stop in the picturesque seaside resort of Opatija, once the seaside retreat of the Habsburg era nobility. You'll want to stroll along the famous boardwalk and perhaps enjoy a nice lunch followed by a drive along the breathtaking Kvarner Bay.
3 Nights in Rovinj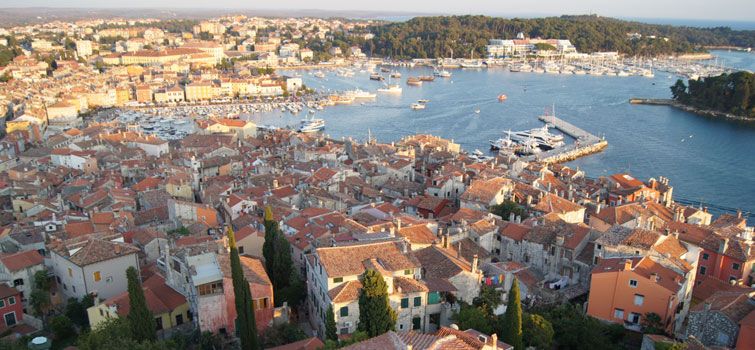 The Italian influence on Rovinj is unmistakable, throughout the city you will find signs in both Croatian and Italian. Its historic center is modeled after Venice with a Venetian bell tower rising above it all. A maze of narrow cobble stoned streets leads you to its picturesque harbor surrounded by pastel colored houses. Rovinj has always been known as a city of fishermen and is still an active fishing port. Its surrounded by incredible nature with plush green parks ideal for walking or biking and an archipelago made up of 13 islands. After your sight seeing stops, you'll probably arrive in Rovinj in the late afternoon, perfect to check in to your accommodation. Relax after your drive with an evening stroll around Old Town and the lively harbor area.
Suggestion: Romantic Rovinj
This Venetian seaside town is one of the most romantic spots on our map, with winding alleyways, a picturesque old port and several islands within easy reach. It's the perfect base for enjoying more exotic activities like truffle hunting, or a private wine tour of local wineries. Rovinj is not far from the Istrian countryside, where you can take a day trip, visiting quaint villages and lovely local taverns. It's all up to you here, whether you want to enjoy energetic outdoor activities like cycling or sailing, or if you want to completely unwind, or even explore one of Europe's most unique regions. One of our favorite sunset spots in the whole of Croatia is the belltower of St Euphemia's, the cathedral that stands watch over Rovinj.
Day 10
Optional: Get to know Rovinj with an expert guide
On your first day in Rovinj we recommend getting a feel for the city with a private walking tour. This two-hour tour will be led by a local guide who knows all the ins and outs of the place. You'll see all the main attractions including the St. Euphemia Church, the town clock, and Balbi's arch. St. Euphemia Church is a stunning example of Baroque architecture that dominates Rovinj's Old Town, as it is built on the top of the hill. Inside you'll see the preserved body of St. Euphemia from the 6th century. This orientational tour will introduce you to the rich history of Rovinj and all of Istria, as well as Italy's influence on the region.
Optional: Let's go truffle hunting!
Croatian cuisine is mostly associated with seafood, but local truffles also play a big role. These savoury mushrooms are some of the most sought-after ingredients in the world. Today we recommend a four-hour truffle hunting adventure near lake Butoniga in central Istria, about 45 minutes from Rovinj. You'll be picked up from your accommodation and driven to the area, where you'll start with a welcome drink and a feast of truffle products. Then, accompanied by a truffle hunting dog, you'll hike to locations where truffles grow in nature, and with a little luck find some of your own. At the end of the day you'll head back to your host's house for a traditional dish with your fresh truffles and a glass of Istrian wine.
Day 11
Optional: Private Istria Tour
Istria is a region of romance and myth. It's also so beautiful that it's often compared with Italy's Tuscany. But in order to experience the best of Istria, you've got to get outside of Rovinj. To do so, we recommend this private full-day Istria tour. From the hills to the coasts you'll see the best of the region, and also taste some of the local cuisine. This is a suggestion for the private tour but you can easily explore the region on your own with the car rented.
Day 12
Take advantage of the easy drive ahead of you today, and plan for a couple stops along the way. An ideal break between Rovinj and Ljubljana is the Postojna caves. We recommend taking a tour, as well as visiting the nearby Predjama castle. It's built into the side of a cliff, so is truly a sight to see.
3 Nights in Ljubljana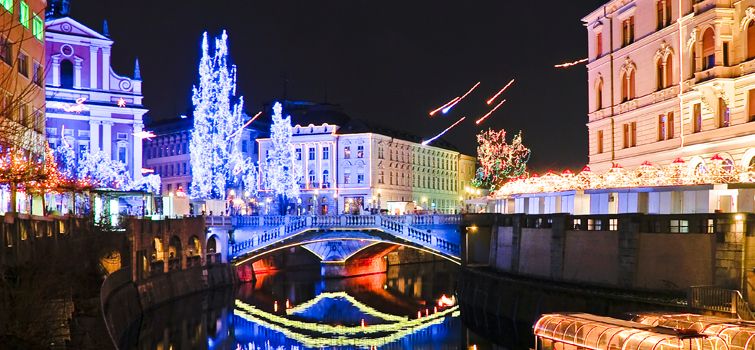 Ljubljana enjoys a central position which makes it the ideal base for exploring the rest of Slovenia. It is a crossroads culturally due to its location, on one hand you can see the Central European influence from Austria and Slavic countries in the city's architecture and language. On the other hand there is a strong Mediterranean and Balkan influence which is brought out in their laid back approach and the city's cafe culture. People are often surprised how westernized and advanced Slovenia is putting it more in a class with its Austrian neighbors than its Eastern European counterparts. An evening arrival to Ljubljana is most likely, especially if you stopped to explore some sights along the way. After checking in to your accommodation, relax and enjoy Ljubljana's beautiful Old Town evening atmosphere.
Suggestion: Ljubljana for Lovers
Ljubljana Just a little off the beaten path, Ljubljana is a truly memorable destination for a romantic holiday. You and your partner will look back on your visit here fondly for years to come. Day and night there's plenty to explore, and the city has a warm and welcoming atmosphere that will keep you smiling. The local gastronomy is delicious, and Ljubljana Castle, high above the city with excellent views, is certainly the most atmospheric place to indulge in a romantic dinner for two. You could also get acquainted with Ljubljana's cafes and restaurants on a city food tour, giving you behind-the-scenes insight on how the locals dine. But you can get more active as well, with a sightseeing flight or a hot air balloon flight for just the two of you, giving breathtaking views of Ljubljana and beyond. Most romantic of all is a boat ride at night on the calm river. Seeing the lights of Ljubljana twinkle over the water is an incomparable experience and a wonderful way to enjoy an evening together.
Day 13
Optional: Private City Walking Tour
Ljubljana never fails to win over visitors with its charm and natural beauty. Most of the Old Town has been converted to a pedestrian-only zone, so it's easy to explore the highlights on foot. Today we recommend a two-hour private walking tour with a local guide so you can skip the tourist traps and see the best of the city. You'll head up to the castle for spectacular views, but also take time to stroll along the river in the center. Ljubljana has a wonderful restaurant and cafe scene, and many great venues are right on the water.
Day 14
Suggestion: Lake Bled & Bohinj Self-Guided Day Trip
Slovenia is relatively small, so it's easy enough to explore. From Ljubljana, our top recommendation is a day trip to Lake Bled and the stunning surrounding area. Here you can spend the afternoon enjoying the gorgeous glacial lake and medieval castle situated on an island. This place is a Slovenian icon, and it's easy to see why. The entire town has a fairy tale atmosphere that will astound you. It's about a 45 minute drive from Ljubljana so you'll be there in no time at all. You can stroll along the alluring jade water, hike through the surrounding forests, or even pilot a boat to float romantically over the lake. No trip to Slovenia is complete without a visit to this tranquil setting. If you like fish dishes, try the fresh local trout. Other places of note are Vintgar Gorge, a 1.6 km long gorge with steep depths and vertical walls which we recommend visiting after seeing the center of Bled, where you can have lunch and a short walk to take some pictures. Be sure to try rich local cream cake! After the gorge you could visit another even more picturesque and peaceful lake, Bohinj in the heart of the Triglav National Park before heading back to Ljubljana.
Day 15 – Departure
You will head straight to the Zagreb airport, a 1.5 hour drive from Ljubljana, and return your rental car there before catching your flight.
Interested?
Does that sound like your ideal honeymoon? 
Get in touch
!