Day 1 – Arrival to Dubrovnik
After your flight arrives in Dubrovnik, we will have someone meet you at the airport and bring you to your centrally located Dubrovnik accommodation.
3 Nights in Dubrovnik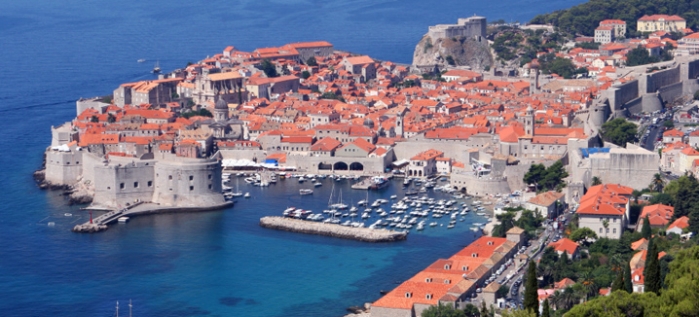 Dubrovnik offers an unusual blend of modern culture and established tradition. Marble-like polished limestone streets, a labyrinth of alleyways and breathtaking architecture characterize the Old Town. Dubrovnik's most stunning feature is the 82-foot tall city wall which extends more than a mile. There are many options for music lovers in Dubrovnik; concerts are performed daily and in July and August the Dubrovnik Summer Festival of music, theatre and dance is celebrated. The nightlife is also exciting with plenty of choices to keep you busy until dawn. When it comes to accommodation in Dubrovnik our wide choice of options covers all budgets from 3 star hotels to apartments all the way to 5 star luxury hotels, all located in and around the old city.
Suggestion: Romantic Dubrovnik
Dubrovnik is a one-of-a-kind coastal destination that makes a wonderful place to travel with your sweetheart. From real romance to outdoor fun, there's something for every couple's mood here, and the incredible natural surroundings will have you feeling like you've stepped into a fairytale. We have two favorite places to watch the sunset: Buza Bar, where you'll have excellent cocktails and snacks and an incredible view as dusk comes on. The restaurant Restaurant 360° perched atop the city walls might be even more impressive, with unbeatable views of the city and the Adriatic. It's one of the most incredible panoramas in the entire region. And, since the gastronomy here is so fresh and delicious, why not learn how to make it together at a special cooking class with a local chef. It's a fun way to bond and have fun as you learn to create fresh seafood and grilled dishes then sit down to feast. Fans of TV's Game of Thrones will already know Dubrovnik is King's Landing in the series, so why not go on a Game of Thrones selfie tour, taking a kiss at each of the filming locations. Talk about unique postcards! A boat ride to nearby Lokrum is also very romantic, as you can really get back to nature on this pristine island, and sample some of the local food and wine.
Day 2
Get to Know Dubrovnik on a Private City Walking Tour
Today you'll be exploring the elegant main streets and picturesque paths of Dubrovnik, with your own personal guide. This truly is one of the most beautiful medieval cities on the Adriatic. A walking tour of the Old City will take you to its elegant main street and its most important sights: The Franciscan Monastery, Onofrio's Fountains, Sponza Palace, Orlando's Column, City Bell Tower, Church of St Blaise, the city's patron saint, and Rector's Palace, the seat of the Republic and the Cathedral. This is the perfect orientational tour of the Old town and will give you the best insight about the rich Dubrovnik history. You'll learn what there is to see and do in Dubrovnik and how to get around. If you'd prefer to see Dubrovnik from afar then take a boat trip to Lokrum Island, an oasis of nature and tranquility just 10 minutes from the old town harbor.
Day 3
Optional: Peljesac Wine & Oyster Tour
Today, why not spend a day exploring some of the finer things in Croatian life, like wine, seafood and boats. Oyster fans should undoubtedly head for Peljesac, renowned for having the best oysters in Croatia. You'll see the gorgeous scenery and blue bays of the Peljesac peninsula, where you'll taste excellent wine from Croatia's most famous wine region. You'll stop at two wineries for tastings and take a 10-meter boat to an oyster and mussel farm, where you'll have a light lunch of excellent, fresh shellfish.
Day 4
Today you're off to Hvar, Europe's sunniest island! Our representative in Dubrovnik will provide you with tickets for the ferry which leaves in the afternoon. You will be picked up from your accommodation by your private driver who will take you to the port in plenty of time for your departure. Alternatively, if you are looking for an opportunity to sight see along the way, we recommend our private transfer option. For an additional fee, we can arrange for a private driver to pick you up in Dubrovnik and bring you straight to Split. If you choose, you can stop along the way, perhaps to explore Ston, the oyster capital of Croatia or Mostar in Bosnia to see the famously reconstructed bridge.
2 Nights in Hvar Town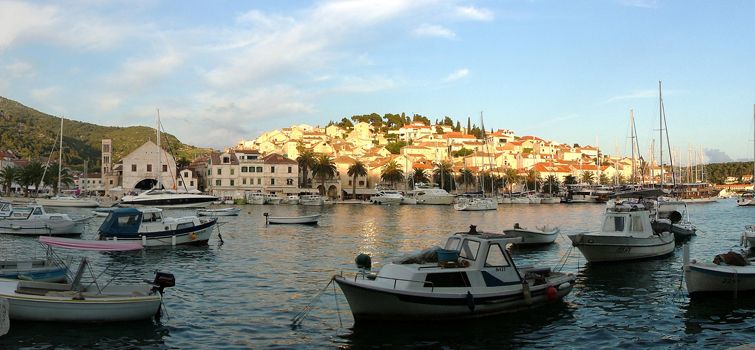 Hvar is rich in history as it boasts, among other amazing features, the oldest communal theatre in Europe, the largest square on the Croatian coast and a medieval fortress dating back to the 7th century. Right off the town's port you will find the Pakleni archipelago, consisting of 21 islands with isolated beaches and secluded coves, making for the ideal way to spend your summer days. If nightlife is what you are looking for, Hvar is known as the party capital of the Adriatic. MSN travel named it one of the top ten world summer party spots. All this makes it a must-see stop on your Croatia vacation. Upon arriving in the port of Hvar, you will be met and brought to your accommodation.
Suggestion: Hvar for Lovers
Hvar is one of the most romantic destinations in Croatia, where you and that special someone can take advantage of the beautiful natural setting to enjoy a magical time together. Hvar town is offers numerous spots to enjoy an unencumbered view over the skyline and out to the water. We'd especially recommend the Adriana Rooftop Bar, where you can enjoy excellent local wines, classic cocktails and delicious cuisine. Atop Hvar fortress you'll have an even better vantage point of the entire town below and beyond to the Pakleni archipelago. And, since Hvar is surrounded by lovely countryside, you can also rent bikes and pedal out of the city to explore the fragrant lavender fields and picturesque vineyards, where of course you can sample some of the local vintages. It's also easy to arrange a wine tour to really get a taste of all the regional varietals. A private sailing trip is another great option for a little alone time as the two of you can sit back and relax as a trained captain sails you to those nearby Pakleni islands, with quiet bays ideal for snorkelling and swimming.
Day 5
Optional: Vis Blue Cave Private Speedboat Tour
The island of Vis is one of the most remote of all Adriatic islands. After a pleasant sail we will arrive to the islet of Bisevo, highlighted by the Blue Cave. The cave is a natural phenomenon which can be entered only by small fishermen's boats. The cave itself is quite spacious and offers an unforgettable experience, especially the light effect created by the sun reflecting in the cave through the sea. We continue to Komiza, whose inhabitants are believed to be the best fishermen on the Adriatic. There is a possibility of visiting the Fishermen's museum on your own located in a fortified building from the 16th century. After the visit enjoy some free time for strolling around or maybe a swim.
Day 6
A taxi will bring your from your Hvar accommodation to the port where you'll enjoy a quick 1 hour ferry ride to Split.
Day Stop in Split
The Roman Emperor Diocletian made Split his home in the 4th Century AD and built a vast palace complex on the waterfront that stands to this day. In fact several of the accommodation options we offer in Split are nestled inside the walls. These days there is an embankment in front of the palace but the water used to go right up to the wall. It's on this man-made strip of land that you'll find the Riva, a pedestrian promenade bustling with life. When you arrive at the port in Split, we recommend storing your bags nearby so you are free to explore the Old Town. You can learn more about Split from the page on our website. Explore the great city at your leisure and then based on your time preference, we'll have someone pick you up and take you to Trogir, your next overnight destination. We often have clients stay in Trogir as it is a bit more charming and authentic than Split.
2 Nights in Trogir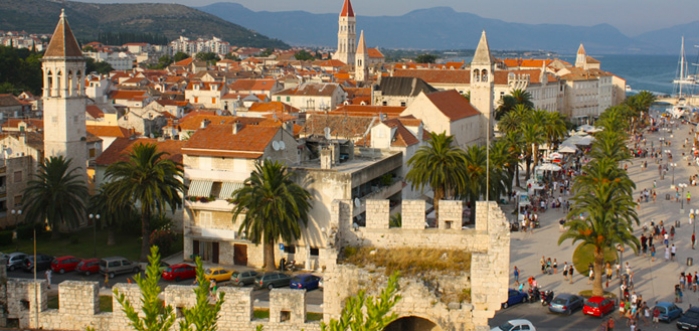 Suggestion: Trogir for Two
Trogir is a unique place to travel with a partner, because there's just so much to do here, from enjoying delicious seafood and wines, to exploring the beauty of the city and the coastline. You'll have something new to do every day. The beaches here are wonderful and after you've tried them, you could take a short water taxi ride to the quieter beaches of Ciovo, some of Croatia's best. Driving up and down the coast is a great way to take in the natural majesty of the Adriatic, and there are several cute towns along the way, like Sibenik, where you can enjoy a delicious lunch of local specialties. The nearby Krka National Park is stunning, with waterfalls and gorgeous lakes you'll like looking at as much as swimming in. This is the kind of place where you can do whatever you feel like, whether that's lazing away the days on beautiful beaches, or getting active and exploring the gorgeous surrounding region.
Day 7
Optional: A Day Trip to Plitvice Lakes
One of the most beautiful natural phenomena in the world, the crystalline bluish-green Plitvice Lakes, are just 2.5 hours from Trogir. No trip to the area is complete without a visit to this incredible UNESCO World Heritage site. We can arrange a private or group excursion for you, lasting all day. You'll be picked up from your accommodation in the morning and driven to the lakes, where you'll have a guided tour of the lakes and waterfalls and the rich plant and animal life. The tour includes a boat ride, walking, and a tourist train. At the end of the day, you'll be driven back to Trogir.
Day 8 – Departure
We'll arrange a private transfer from your accommodation based on your departure time, and transfer you to the airport.
Interested?
Does that sound like your ideal honeymoon? 
Get in touch
!